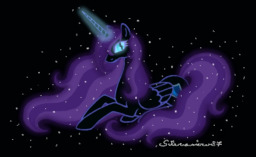 A birthday party. What usually is the happiest day of the year for somepony happens to land on the saddest day for a dragon librarian. But when he learns who the lucky mare is, he can't help but be upset with his sister who was nowhere when their caretaker left them for good as he stood by her bed.
To make matters worse, he has to deal with his niece and the rest of his old friends' grandchildren as life wishes them to live happy and normal lives.
But when the last breath of Kindness fades away; evil will once again be unleashed onto Equestria. It is up to this new group of friends to find the elements within themselves. It's also up to Spike and his Sister to come to terms with one another if any pony wants to keep harmony across the land.
****
This is most likely not the best way to describe this story but does make a good summary.
I do advise reading Past Sins by Pen Stroke and Batty Gloom before starting this story. It does involve Nyx so, LET THE FLOODGATES OF UNPLEASANTNESS OPEN! HAHAHAHAHA! Cause i expect to get hate for writing this.
****
Will add anypony's image if to this if i feel it needs to. The same goes for themes.
Chapters (8)