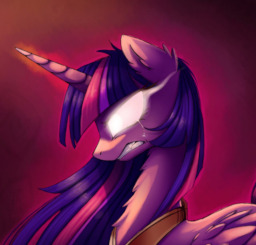 Alya was the name Twilight and Celestia had given their adopted daughter two years ago. Nopony knew where the little filly came from. Nopony knew anything about her.
The two princesses had no idea that two years later she would reveal herself to be a changeling, and nopony—especially not Twilight—was prepared for it. Her previously normal, structured world comes crashing down around her. The happy future she had pictured for herself and her family, now a bittersweet memory.
After long days full of prying questions and sleepless nights bristling with nightmares, Twilight comes to a desperate conclusion: Alya is the root of her troubles.
Silver Scrolls has been a wonderful help as an extra pair of eyes and editor on this story.
Cover Art: The Price of Immortality by MagnaLuna
Chapters (6)