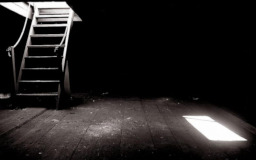 Source
Megan Williams has been to Equestria before. Twenty years prior, she made friends, fought enemies and lived happily. Two decades later, she waits for any sign that she can see her friends again.
When children start to go missing after making "wishes" to visit a magical place, Megan starts to investigate until she realizes the threat is closer to home than she expected. Her barn is holding an entrance, but to where, she has yet to find out. She won't go unprepared though...
Gore Warning: Megan fights back and fights viciously.
---You might like this if you also like:---
Silent Hill
Eternal Darkness
Sanity Effects in video games made into literary form
Megan Williams
Smart Protagonists
Protagonists Who Know How to Plan Not to Get Killed
Credit Edit 7/6/16:
A very special thank you to two people who helped inspire this story:
Doctor Disco helped edit the first half (thank you!)
BlueColton's horror stories, such as "Off the Road," inspired me to write this
http://www.fimfiction.net/story/297276/off-the-road
This story made it to the Featured Box on the day of its release: 7/6/2016
Other horror stories of mine:
(Fluttershy) "The Thing at the Edge of Sleep"
http://www.fimfiction.net/story/335108/the-thing-at-the-edge-of-sleep
(Marble Pie) "It Moves Below"
http://www.fimfiction.net/story/337815/it-moves-below
Chapters (2)