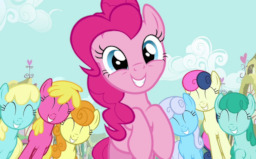 Source
Intimacy and affection. Pinkie Pie knows that right now, that's what you need the most. She saw you walk into the room one day, say nothing and sit down next to her. She's known you for a while, and today she's going to do what she does best. She's going to make you happy.
But Pinkie also experiences pain too, and she will reveal that as well. Together, you're going to heal each other's hearts. And by the end of tonight, before sleep takes you to Luna's palace of dreams, Pinkie will show you what it means to be loved.
Rated T for Moments of Intimacy. If you've ever wanted to read a sweet pony story where you read from the intimate, but safe non-sexual, role, then look no further.
--You might like this if you also like:--
Stories about emotional intimacy rather than romantic passion
The thought of Pinkie Pie making you smile
Pinkie Pie as a roommate
A quiet night in Ponyville soothing your heart
The idea of hugging a pony and hearing them talk to you about what matters to them
The idea of tickling a pony until they kick through a wall
Being told how much someone you care about loves you
Chapters (1)