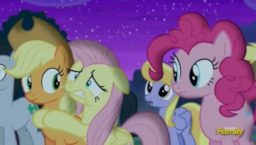 After Trixie's "Way-To-Go-Dum-Dum-You-Really Messed-It-Up-This-Time Repentance Tour" show in Ponyville, many ponies have re-evaluated their opinions on Trixie, giving her a little more respect.
Fluttershy, however, sees beyond the show and wonders just what truly happened. Fluttershy asks Trixie about her emotional state, and what she was truly feeling right before launching herself out of the cannon.
Their chat reveals a few surprising things about Trixie's life.
SPOILERS for No Second Prances.
Chapters (1)