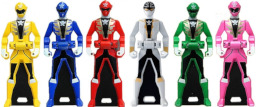 It's been a year and a half since The Super Megaforce Rangers defeated the Armada that was led by Prince Vekar with the help of the legendary Rangers. Small remnants of the Armada survived and after gathering together with the help of their new leader, Vildrax, they flee to a new dimension known as Equestria in order rebuild the Armada and make it stronger than ever.
To help them get back in their fighting force, Vildrax plans to conquer the entire planet of Equis, a task he believed would be quick and simple. This would be the exact opposite as the being known as Gosei and his new assistant Alpha 5 have followed the Armada and had spent the year creating new keys for the recently discovered Super Sentai verse.
Now it's up five children, each one a different species, to save their world from the evil Armada as the New Super Megaforce Rangers!
---
Spike the Dragon as the Red Super Megaforce Ranger
Bram the Minotuar as the Blue Super Megaforce Ranger
Rover the Diamond Dog as the Green Super Megaforce Ranger
Aeris the Griffon as the Yellow Super Megaforce Ranger
Melody 'Mel' the Kirin as the Pink Super Megaforce Ranger
Garble the Dragon as the Silver Super Megaforce Ranger
Ember the Dragon Lord as the Aqua Super Megaforce Ranger
---
Nyx and any other Past Sins character belong to Pen Stroke
Gore and sex tags there for occasional bits of blood and small innuendos.
Chapters (3)