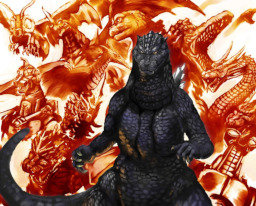 They've failed. The Kaiju Earth Defenders have been defeated by the alien race known as the Vortaak.
With Space Godzilla using a mysterious device, the remaining Earth Defenders and Godzilla's son, Godzilla Junior, are transported to a new world known as Equestria
Now stuck in the form of creatures known as ponies, the five Kaiju must rely on the help of five kids and protect their new home from Vortaak and other evil Kaiju.
---
Main Kaiju and their partners.
Godzilla: partner, Spike the Dragon
Baragon: partner, Applebloom
Anguirus: partner, Button Mash
Mothra: partner, Sweetie Belle
Rodan: partner, Rumble
Later:
Varan: partner, Scootaloo
King Caeser: partner, First Base
---
Other kaiju:
Godzilla Junior
---
Note: Inspired by a story whose name I can't remember, and this is my take of the Godzilla Unleashed ending.
Chapters (1)