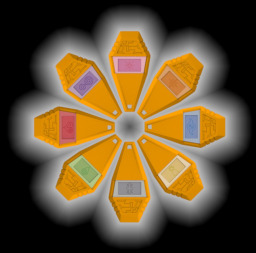 There are nine crests of virtues: Courage, Friendship, Knowledge, Love, Reliability, Serenity, Hope, Light, and Kindness. Each crest having a chosen child who best represents this virtue, but when a tenth called the Crest of Imagination is sent into a different human realm. The unforeseen consequences shift the destined paths of many worlds. The Crest of Imagination splits into four pieces, and arrives within a small meeting of children whom it had chosen.
Within this world, many other realms are showcase for the purpose of entertainment. These, television shows, impact the mind of a child's imagination. And when given the physical representation of imagination to a group of children influenced by such showcases, it might react in a way unexpected.
Now four human kids are sent spiraling into the world of Equestria, with powers, partners, and devices unheard of. But don't worry, only the fate of the Digital, Ghost Zone, Human, Equestria, and Pokémon realms fall in their hands as a evil force seeks their crest. What can possibly go wrong?
(Warning, Multi-crossover between MLP:FIM, Digimon, Danny Phantom, and Pokémon. Cover image not created by me.)
Chapters (8)