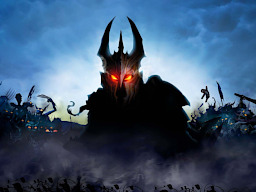 Thousands of years after the Great Sundering, many races that were, had been banished from the world by a Goddess. Now the Wonderious Kingdom of Alicornia rules, peace and tranquilty everywhere, and no possibly way for any evils to tear it down.
But deep in a frozen cave, lay the last Human, who has now been found by a gray creature and taken in to become, the newest Overlord!
Because Evil Always Finds A Way.
(Note: If you are familiar with another story by the name of "Evil Always Finds a Way", I am telling you that my story was released many months before that one. The author of that one just didn't realized his title name was already taken. Both stories are only similar by name, nothing else.)
(Featured 11/5/2014! Yay! 2nd Story of Mine ever featured)
Chapters (5)