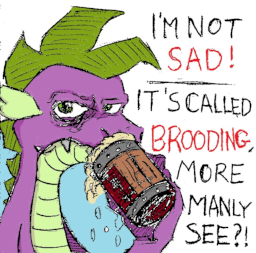 "I dunno man, maybe it's not me. Maybe, it's...the rest of Equestria, ya know?"
Suffering badly from the almost inevitable rejection of his long time crush, Spike chooses to man up and cry in a bar instead of his bedroom. Looking to cheer him up, the squad assemble to help him realize he still has a place in the world; even if that place doesn't include Rarity.
Hopefully Soarin and Discord will be able to bring him around, as well as resolve some of the new tension between him and Applejack (who has had to put up with his insufferable brooding for four nights straight).
And what better a way to do that than over a couple pints of the Apple family's infamous Sweet Apple Cider.
Edit: This is meant just as a random, slightly mushy, humorous, light read. Just something that came to mind and thought I'd write just to see how it goes down. I have added a sentence or two and slightly revised the description, so that you all get a slightly better idea of what to expect. This does include Applespike.
Book 1 in the friendzoned series. Prequel has been written. The link is in the final chapter, 'The survival guide'.
Chapters (5)