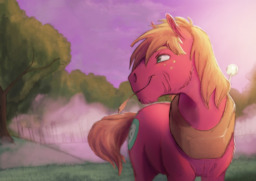 Source
Winner of the Macindash Community Fanfic Contest
Who is Big Macintosh?
That's always been a bit of a mystery.
Aside from 'the big, red, quiet stallion at Sweet Apple Acres', not many ponies actually know.
Rainbow Dash is no exception.
Sure, she's seen him around a bit, but their relationship doesn't span much further than 'the brother of Applejack'.
One night, she talks to him.
---
This story is primarilly Slice of life, but does suggest romance and shipping.
So the romance tag is more for 'light romantic themes'.
---
This is a fiction written for the MacinDash Community contest by KarmaDash, following prompt B.
Cover art credit: This fantastic piece of art is all thanks to the colab of darkflame75 and earthsong9405. Kudos to you both.
Chapters (1)