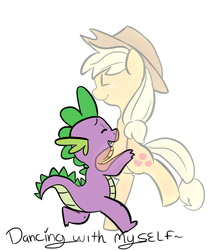 Sitting outside in the quiet night, in a small clearing by Sweet Apple Acres, Spike relives the best moments of his life: the moments which he spent with his beloved, Applejack. As the rain falls around him, he contemplates his own existence, realising he has many years to go before he is finally reunited with his beloved mare.
A quick, Applespike one-shot fiction.
Cover art credit goes to mt on Derpibooru.
Here's the link: https://derpibooru.org/137465?scope=scpe671f0769fa691570e54f07a9e5160f1463f75901
Cheers mate, lovely piece of art work.
19/02/2016
Got a message from Solar Pony with a link to his dramatic reading of this story! It's kinda overwhelming, but I'm super grateful to him for it.
Here's the link to the story: https://www.youtube.com/watch?v=GkBwrVsKqwg
Seriously guys, go check him and his channel out! Even if fan fic readings aren't your 'thing', it was certainly a pleasure to listen to.
Chapters (1)