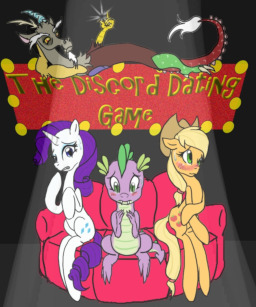 Source
This story is a sequel to I Love Ya to the Core
---
Spike finds himself on a game show hosted by Discord where he has to choose between three mysterious bachelorettes, not realizing that this is a ploy to settle a love triangle he has not been aware of. Who will Spike choose?
Hearts might be broken and secrets might be spilled.
This is a "sort of" follow-up to "Bride of Discord." Not really a sequel, but is set in the same universe.
Cover Image by WolfSpirit1292, who also adapted this into a comic!
Chapters (1)