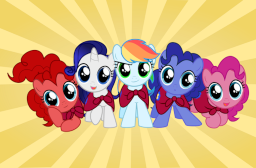 This story is a sequel to Daughter of Discord
---
A series of one-shots detailing the adventures of five fillies on a quest to find what makes them special and earn their cutie marks.
Prism: the flightless pegasus overshadowed by her Wonderbolt parents and her talented older siblings, eager to prove herself to her family.
Gemstone: the spoiled yet slightly absent-minded unicorn hailing from Canterlot, seeking out friends who will accept her for who she is.
The Tri-Pies (Blueberry, Raspberry and Cherry): the energetic triplets, joined at the hip since birth (not literally), but cannot seem to handle themselves individually.
Artwork courtesy of Nstone53
Stories (no real spoilers, just brief synopses):
A New Beginning: Prism is tired of being picked on for not being able to fly and for being a blank flank, so with the help of her Aunt Scootaloo, she gets her best friends Blueberry, Raspberry and Cherry to form the new generation of The Cutie Mark Crusaders.
Odd One Out: Gemstone wants to join the Cutie Mark Crusaders, but Prism won't let her.
Trial and Error: The new Cutie Mark Crusaders spend the day trying new things and will hopefully discover their super special talents.
Words, Words, Words: Gemstone isn't doing so well in school and believes herself to be stupid. Will her friends discover her secret?
Three of a Kind: The Tri-Pies are very special fillies and are able to do all kinds of things, but for some reason can't seem to get their cutie marks. Even though they are triplets, are they truly as alike as they think?
The Secret Admirer: It's Hearts and Hooves Day and Prism gets a beautiful card from an anonymous pony. Who is her secret crush?
The Strange Case of Cheese Sandwich: Blueberry discovers that there was another stallion in her mother's life and is determined to find out what happened to him.
April Foals: Prism's prank on the Tri-Pies leads to unexpected results.
Weekend at Uncle Discord's: Days One and Two: While Scootaloo is away, the Dash siblings spend the weekend with Discord, Fluttershy, Screwball, Mothball (Screwball's changeling boyfriend) and baby Zany. During this weekend, Prism is determined to prove to her older brother and sister that she would be a better older sibling than them. Her wish comes true, but not in the way she had in mind.
Weekend at Uncle Discord's: Day Three (completely unrelated to the plot of Days One and Two): Gemstone and the Tri-Pies come visit Prism at Discord's castle for a play date. They decide to explore the many rooms there in hopes of earning their cutie marks, but there's no telling what lies behind each door in the Castle of Chaos.
Weddings: At their Aunt Twilight Sparkle's wedding, the CMC ask their parents about their weddings.
Until We Meet Again: Rainbow Dash and Soarin are going to Afghanisteed, and Prism is worried that they won't come back.
First Crush: The Tri-Pies have always been inseparable, but a cute new colt in class causes friction between them.
Baby Boo: Gemstone's new baby sister arrives, and Gem is determined to be the best big sister ever. However, with her family handling everything, she feels useless. When Nightmare Night comes around, she gets the chance to prove herself.
Politically Incorrect: Friction develops between the CMC when it is announced both Gemstone's and the Tri-Pies' fathers are running for Mayor of Ponyville.
Compromises: Lemon Drop gets into a fight with Raspberry. Is this the end of their relationship?
White Swan: Cherry and Gemstone work on a school project together and become closer friends than ever. When Gemstone wants to hang out with some pony else, Cherry starts feeling icky and she doesn't know why.
Rock Pies: The Tri-Pies receive a visit from their cousins from the rock farm.
Lonely Apples Club: Cherry gets crush advice from an unlikely source.
Whinny Land: On a day trip to the amusement park, Cherry and Blueberry seek to solve an urban legend, Gemstone and Raspberry play matchmaker, and Prism runs into an old friend.
Gift of the Raspberry Lemon: While making Hearth's Warming cards, Raspberry makes a startling discovery about her coltfriend.
Stories: For Hearts and Hooves Day, the class must write a report on how their parents met. Raspberry worries her report is going to sound exactly like her sisters'.
El Tango de Triángulos: At the Hearts and Hooves Day party, Raspberry decides to help a friend with a romantic dilemma while Blueberry helps Cherry with her own. Unbeknownst to them, another pony has their own little romantic scheme cooked up.
Chapters (24)