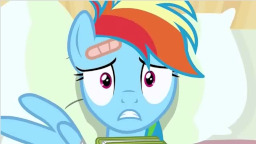 After an unsettling experience with Soarin, and hearing that her friends think she's gay, Rainbow Dash starts to question her sexuality.
When she finds out the truth, will it jeopardize her relationship with Soarin and perhaps her friends?
The "Sex" tag is for language. This is not a story about being gay or not gay, but on uncovering one's identity and coming out.
Chapters (4)