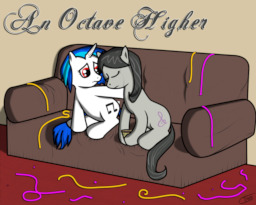 Sometimes, the best memories are those born out of suffering. All you need to bring those memories to mind, is a friend who raises things an octave higher.
----------
What happened in the Canterlot Music Academy? Find out here
----------
Author's Notes:
Here it is! After a month of constant reading of this fanfic, getting two proofreaders (JohnPerry and BronyMaster) and a request from the amazing artist called Frees, I am very proud to present the 4th entry into my 'Remembrance Saga' featuring Vinyl Scratch and Octavia.
What started out as a stray idea in my head has grown into, what I think, is one of the best stories I have ever written. I really hope you enjoy this fanfiction and if you do, be sure to check out the rest of the fics in the 'Remembrance' saga on my profile! Thank you for reading!
----------
Credits:
Beautiful cover art done by Frees
Proofreading done by JohnPerry , Bronymaster and NinjaBrony43009. They really helped turn the story into what it is now!
Chapters (1)