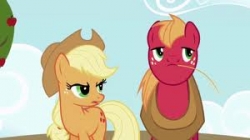 When the Cutie Mark Crusaders ruin Applejack's stetson hat, Big Macintosh offers to take it to Rarity's boutique in order to get it repaired. But was that the only reason he's going there?
Takes place pre-Season 5.
Special thanks to TheDizzyDan and Scootareader for proofreading and editing and cleaning this story up in general.
Chapters (9)