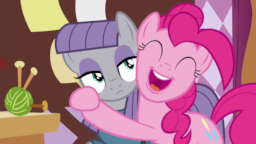 Ever since Pinkie's birth, Maud has been having some dark thoughts. She wants to kill her little sisters, starting with Pinkie, as she is still the youngest of the three and surely the easiest to end quickly, as she is also the weakest of the three.
Surely as Pinkie is the final installment to the Pies, Maud has endured much already when it comes to dealing and living with her little siblings, but Pinkie's differences from the other members of the family cause her to envy her to no bounds. Inflicted with great jealousy and rage, Maud contemplates the worst and documents her feelings as to what happens after the event occurs.
---
I wrote this with no real objective. I don't know how it will turn out, but I do know that despite it not being a fic I liked writing in particular, I still worked fairly hard on it. This was very hard to write for me to be honest, as I've had similar thoughts and strange desires to do similar things, I am not proud of these, and even then I still feel guilty for these thoughts, despite them being several years old. I'm over it all, but it still bothers me sometimes...
Chapters (1)