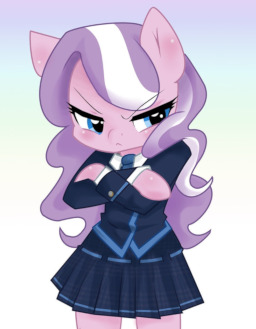 Source
Diamond Tiara Rich- wealthy, beautiful, spoiled rotten. Everypony hates her, but at the same time, they desperately want her life. But this life doesn't come without problems.
Diamond Tiara has always hated Apple Bloom, and who could blame her? She's annoying and pathetic and obviously insanely jealous. So anytime they see each other, Diamond tries to get it into her head that she, being rich and amazing, is way better. But after a particularly dicey encounter with her favorite victim, Diamond makes a mistake.
And that mistake sends her to boarding school.
Determined not to let her new circumstances get her down, Diamond vowed to have the entire school eating out of her hoof by the end of the year. But that's a little hard to do when the role of resident Queen Bee has already been filled...
But unbeknownst to anypony, strange forces are lurking close. A student hungers for power, and secrets of Equestria are revealed. Soon, it will be up to Diamond to decide what matters most- herself, or the ponies around her?
Takes place right after Call of the Cutie.
Cover art by Kikirrikitiki on DeviantArt.
Chapters (8)