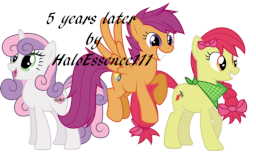 It's five years in the future, and the Cutie Mark Crusaders have changed a lot over the years.
Sweetie Belle is living with Rarity while her parents are traveling abroad.
Apple Bloom is working her hardest to keep her family and farm from falling apart.
Scootaloo now lives with Rainbow Dash ever since the tragedy that happened one year ago.
Sweetie Belle and Apple Bloom both attend the Ponyville Academy of Higher Learning.
But strange things are occurring at this institution of knowledge. Diamond Tiara is worse that ever (no surprise there), and a certain teacher seems to despise them.
Little do they know the dark forces that lurk close.
Flagged as teen due to some non-child friendly fight content.
Chapters (9)