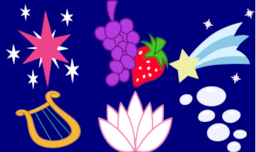 (This story will no longer be updated. I may return to these characters in the future, but it will be in individual stories, not in the same format as this.)
(Art created using these fine fellows vectors) http://liggliluff.deviantart.com/ http://hawk9mm.deviantart.com/ http://intbrony.deviantart.com/
An alternate universe where due to a mishap twilight doesn't befriend the regular mane 6 but instead a different group altogether. How will events occur differently without the best ponies? Can twilight still save the day with an even more misfit group? Lets find out shall we.
Chapters (31)