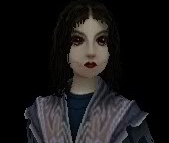 Bellikos. Odd golems from an EverQuest expansion released long after the game had any relevance. The players helped them turn against their divine creator. Landshark is one of these creatures. Since those events, years have passed. She has traveled far and built herself a life among mortals, far from the divine domains of her creation. Now she's stranded in Equestria.
By instinct, she distrusts gods, and the ageless alicorns seem to be just that. She can't ask beings of such power to break through into other worlds to return the construct to more familiar places. So Landshark tries to make the best of her current situation and settle into Equestria to 'retire' and make friends.
(That's the pitch. If you want to know more about bellikos in the actual EverQuest game, click More.)
But what even is a bellikos? They're an enemy type from EverQuest's 16th expansion, Underfoot. But they're not just mooks that screech like rusty hinges and try to bite you. They're that, too, but they had a story.
Brell Serilis runs the Underfoot, populated by his servants and by the souls of worthy worshippers. He created most of the subterranean sapients. But his unique First Creation secretly turned against him. The First created hosts of servants, the elite of which were the Bellikos. Not primarily meant to fight, the Bellikos were sent out into the Underfoot to preach the ideals of freedom and the absolute supremacy of the Self over the needs of society. They were meant to be relatable, charming and cunning to aid in their purpose. It's not clear why they needed jaws like bear traps. Pictures do not do justice to how far these things can open up their maws to chomp at enemies.
The secret goal: Disrupt the ordered workings of Brell's realm, where every being has its duty and its purpose, or is a former mortal experiencing their afterlife reward.
But some Bellikos started believing what they preached. With the aid of mortal champions (following a quest line and doing an instanced raid), they discovered that the First's other servants were taught only obedience and sacrifice in preparation for open war with Brell's divided followers. This sparked a fight to share the knowledge of self with the First's slaves and reveal his plans to the rest of the Underfoot.
Landshark, then still known by the name she was crafted with, was one of these renegades, fighting to share the idea of free will among the First's slaves and sabotage his evil plans for the divine realm.
I do not own MLP or any intellectual property related to EverQuest.
Chapters (53)