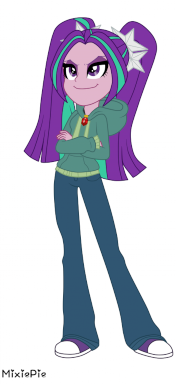 Source
Soon after the battle of the bands the three sirens, Adagio Dazzle, Sonata Dusk and Aria Blaze are forced into mandatory friendship rehabilitation. A fancy way of saying each Dazzling has some annoying high school student hovering over them every hour of the day.
Aria Blaze being the spiteful opportunist that she is seeks to turn it into an opportunity to gain revenge against the ringleader of those who defeated them. One way or another Flash Sentry will be hers.
I've dabbled into Shipping in the past with some of my stories, but this will be my first full on shipfic. Why is this story marked Equestria Girls as well as human? Because it has elements of both, just read it and find out.
Art I'm using as the cover created by - MixiePie.
Chapters (9)