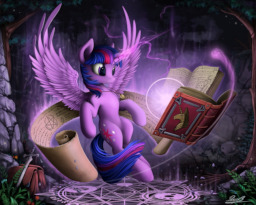 Source
When Sunset Shimmer decided to return to Equestria to right past wrongs, neither she nor her friend Princess Twilight Sparkle could possibly imagine the series of events resulting from that decision.
With the Crystal Mirror irrevocably broken, Princess Twilight is now stranded in the other world, while the highly agitated, furious, and unhelpful human Twilight is equally stranded in Equestria. Sunset Shimmer--still new to friendship--now faces enormous challenges as she struggles to solve the seemingly impossible: how to send the human Twilight back while also bringing Princess Twilight back, when the only portal between worlds has been destroyed...and how to heal her former mentor and teacher, Princess Celestia, who has been stricken by a debilitating illness.
With the prickly and standoffish Twilight refusing to help--and, more often than not, injuring feelings and infuriating tempers--the fate of both worlds rests squarely on her shoulders.
[Best viewed with reader formatting set to: 1) paragraph: both; 2) Alignment: justified]
Pre-read, edited, and critiqued by my friend and fellow equestrian, Toriandthehorse
Artwork by: Yakovlev-vad
Featured on Equestria Daily 04/11/2020
Chapters (24)