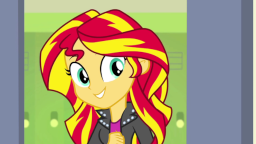 Source
Dear Princess Twilight,
It feels strange writing these words, and even stranger writing what comes next. But I figured it was the least I can do for all you've done for me. Friendship is a tricky thing, and I admit I was kind of jealous you came into it so naturally. Princess Celestia made the right choice, and I can only hope you can get through to me where she failed. Did you ever tell her I was sorry?
I'm rambling, so I'll cut this short. Funny things have been happening since you left again, and it just felt right to report them to you like this. Be prepared for more in the future.
Your Faithful Student,
Sunset Shimmer
Twilight Sparkle returns to Canterlot High once more, only things aren't as they seem. Is Sunset Shimmer just being paranoid, or will everything she holds dear in both worlds be at stake?
Spoilers for the ending of Rainbow Rocks.
Chapters (1)