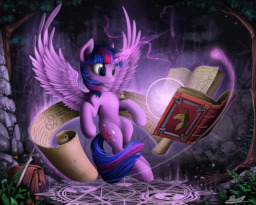 Source
This story is a sequel to Double Trouble: The Flaws Within
---
The Crystal Mirror is irrevocably broken and beyond repair.
On this, the paramount minds and Mages of Equestria's current generation all agree. And the one pony universally understood as having the highest chance of its reconstruction is tragically marooned on the other side of the Portal.
In the human world, Princess Twilight Sparkle has despairingly reached a similar conclusion. Although she might be the preeminent Mage and researcher extraordinaire back in Equestria, this world is a land of technology and machines, a realm of hard science she finds sterile, cold, and forbidding...and one totally unfamiliar. Facing the reality of being permanently stranded, Princess Twilight struggles against despair and depression as she confronts the long, arduous road to acclimatization.
Twilight Sparkle, now in Equestria, faces similar challenges…or would, should she ever thaw enough to interact with her environment. As prickly and standoffish as ever, she defiantly remains independent and autonomous as she struggles to rebuild her former life precisely as before.
Between the intense friendship with Princess Twilight and renewed bond of love with Princess Celestia counterbalanced by extreme guilt over the catastrophe, Sunset Shimmer strives to balance duty versus desire, obligation versus friendship...
Especially as she senses Equestria's peace and stability―and perhaps even survival―depends on Princess Twilight's return.
From the ashes of disaster, can hope flower once again?
(Double Trouble takes place the summer after The Battle of The Bands)
Pre-read, edited and critiqued by my friend and fellow equestrian, Toriandthehorse
Artwork by: Yakovlev-vad
Chapters (1)