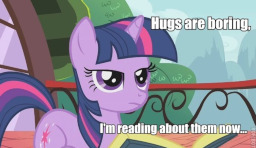 Twilight reads an EXCITING book! Join her on this literary adventure!
Reviews:
"Jumbled has won at FIMFiction" - Syeekoh
"Well, we know that whoever approved this one is the weak link who allows the trollfics" - hockeygoalie1992
"Bumblebees taste like fruit juice" - Shalrath
"I have achieved enlightenment. I am weeping tears of terrified joy."-TOW
"This is one of those things that makes you want to bury the claw end of a hammer in the writer's genitalia." -Mythril Moth.
Chapters (117)