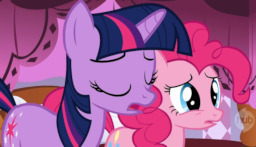 Even though it's late at night, Twilight Sparkle is wide awake and immersed in her... Let's call it work. That is, until a certain earth pony shows up, with a big problem on her hooves.
Warning: Contains some spoilers from episode 19: Putting your Hoof down
Note: As you may have already guessed this is TwiPie fic, but not really a romantic shipping fic (hence no romance tag). It still is a teeny-tiny itty-bitty shippish. Not the "OMG, let's make out and have some magical babies" shippish. Not even "I love her, and she doesn't notice it, sob, sob" shippish. More like "There is some really good air between them, that could lead to future developments, but neither of them notice it yet" shippish. Really, really mild. Or so I think...
But just in case there is someone who absolutely hate anything – and I mean anything – even vaguely considered a ship I'm putting this warning here.
Chapters (1)