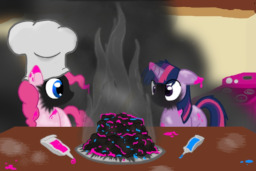 Source
I was asked by a friend to write a story of sloppy makeouts between Twilight and Pinkie based on this image. So sloppy makeouts I have written.
When Twilight Sparkle finds herself once again failing in the kitchen, what will Pinkie do to cheer her up?
Rated teen due to graphic sensuality.
Chapters (1)