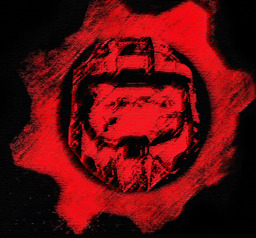 *(It is ALL set in the Pre-Banishment era if you are confused at first, and also I am NOT trying to go for the overused, cliche root. You will be surprised for what I have in store.)*

Went to Gam3rcon with my brother.
"Your going as the Chief?"
"Yeah, cooler than your costume anyway"
___
Bought the Holy chainsaw staff of Skorge.
"Real metal. It's made of real metal. That's cool I suppose."
___
It came with a Horse amulet.
"What the hell?"
___
Mobbed by bronies.
"This guy has an Alicorn Amulet!"
'Aw Hell No!"
___
Whisked into a land against my will.
"I must be in Japan, I know how random they can be..."
___
Become the unofficial detriment of a blue pony princess.
"Thou massacering Mongrel!"
"What?!"
___
Some holiday to Colorado this turned out to be...
Chapters (7)