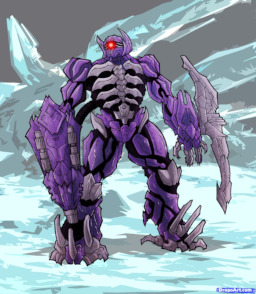 The All-Spark was within his reach, he could practically feel the energon pouring off of it. His mission was almost complete.
He sent the co-ordinates of the Cube to Megatron...
And he would have...
Only if the Royal Sisters hadn't of blasted it back into the endless void of space and froze him in the ice with those so called Elements of Harmony.
Two thousand years have passed since then, and after a group of archaeologists uncovered him beneath the ice of the Frozen North, he awakens. To bring death upon those who disrupted his mission.
---
This will be the last story from me for a while.
---
Movie design with Transformer's Prime voice and color. (Not a toy!)
Chapters (1)