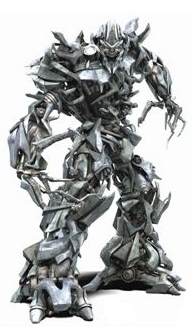 A 'Transformers Nut', is what his friends called him, and that name spoke words of truth on many levels. Little ol' Denis O'Harra had almost everything relating to Transformers, mainly the movies. His face would spark into one of pure chaotic glee at the mention of them. As you could all probably tell, Denis was a very big fan of the robots in disguise. A very big fan indeed.
Recieving a Megatron costume for his ninth birthday had him hopping on the spot for twenty seconds straight. Denis loved the texture of the costume, it made him feel all snug on the inside as well as the outside.
The mask though, was a different story. It felt... heavy, as it were. Almost like it was made of some for of metal. Denis put it on anyway, admiring the way it fit perfectly on his little, round head.
Oh, what a grave mistake that was... but, hey! Who could blame him?
Mysteriously disappearing from his kitchen and waking up as the actual Lord Megatron himself made Denis' heart flutter... but being in the land of talking, pastel colored ponies only tended to seriously mess with the young chap's head.
Chapters (1)