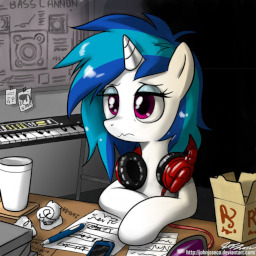 Source
Everypony knows the name DJ PON-3. She's the most famous—or infamous, depending on your social circle—DJ in Equestria. She's loud, she's crude, she likes to party. Everywhere she goes, fun follows. She has ponies worshiping the ground she walks on, and she wouldn't have it any other way.
Or would she?
Everyone has a facade hiding who they really are underneath, and every facade has a weak point. The time has come for the true Vinyl Scratch to be revealed to the world, whether she likes it or not.
---
A collaboration with my good friend Auramane.
---
EDIT (10:47 PM 6/3/14) : Popular box! You have all made my entire week! Much love! <3
-HB
Chapters (4)