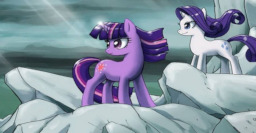 Source
An ancient evil awakens, bringing a close to a thousand-year cycle. Hundreds of millions of years have passed since the first time this ancient Malevolence walked the earth, bringing with It the first feelings of true Fear. The very laws of reality bend and break in Its presence. Terror charges before It, and drives away all but the foolhardy. Those that run do so until they collapse of exhaustion. Those that remain fare worse, for where It walks, insanity follows. What It wants is a mystery. Where It's going, unknown.
Unfortunately, the reality-warping nature of the Malevolence causes one of Rarity's spells to go awry, trapping her in an unconventional prison of space and time rather than stone and metal. With the return of the Malevolence on the horizon, she has one week to fix what has been broken and stop It, once and for all. If she fails, she has to do it over, and over, and over again.
Oh, and she has no magic. No pressure.
Chapters (2)