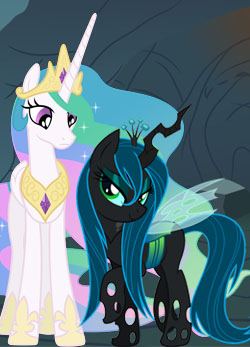 Chrysalis is dying and she has but one thought on her mind. When she is gone from the world, who will care for the one thing in the world she values above life itself?
What will she sacrifice? How much of her pride will be thrown aside? To what lengths will she go to ensure her daughter's life? Will she beg a mortal enemy for mercy, not for herself but for an innocent foal? She is already willing to die for her child so what else could she give to be certain of the filly's sustained happiness?
~~~~~~~~~~~~~~~~~~~~~~~~~~~~~~~~~~~~~~~~~~~~~~~~~~~~~~~~~~~~~
This is my entry for the EFNW 2014 Writing Contest. I'm really happy with it so it doesn't matter whether I win or not. Seriously I'm glad I got to tell this story.
Alright big shout out time. As of March 13, 2014 the impeccable Goombasa has posted this... HERE ... Now that a YouTube fanfiction reader has read one of my stories I am one step closer to world domination!
New big shout out time! As of August 28, 2018 the lovely CountessRose has posted this HERE ... Now that a second YouTube fanfiction reader has read the same story as last time, I am yet another step closer to worlds domination!
Now on to the important details, the shout outs to the artists responsible for the vectors and background I used to make the cover art.
The Chrysalis Vector
The Celestia Vector
The Background
Many thanks to them.
Chapters (2)