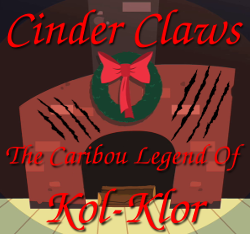 For ponies, Hearth's Warming Eve is a joyous time. Caribou though... their legends are darker. They know what threats await in the long, dark nights of winter, and what evils can lurk in the hearts of those who dwell there. Join the Cutie Mark Crusaders, as they hear one such tale told by the High Chieftain of the Caribou, on the longest night of Winter's Eve.
This story takes place in the years between the first Three Wishes story, and the start of its sequel. Reading those first is not necessary. This story is a stand-alone tale for the holidays, though there are several tie-ins with the larger stories.
Also note, this tale was written in about 5 hours, from 2am to 7am Christmas morning. It was a crazy, last minute idea for a holiday story, and has not had the benefit of the usual editors and prereaders. As such, blame me (and my lack of sleep) directly for all mistakes and stupidity.
Chapters (1)