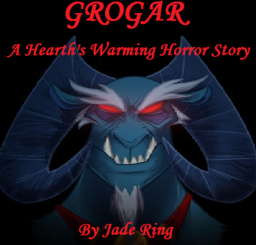 Source
The winter's wind is blowing hard.
The air is thick and white.
All good foals should hide their heads
Because HE comes tonight.
Hooks and chains and ringing bells
Are among HIS favorite toys.
Screams and cries and filly's tears
Are things that HE enjoys.
HE comes tonight not to give,
HE comes tonight to take
So you'd better be good, my little one
If only for goodness sake.
Tonight the stars will hide their eyes,
The good shall make no sound.
For tonight is Hearth's Warming Eve,
And GROGAR is coming to town.
////////////////////////////////////////////////
Reviewed by the Seattle's Angels January 16, 2016
Spectacular readings by Sparrow9642 and Scribbler Productions
Chapters (4)