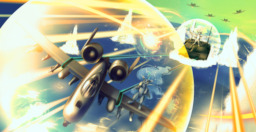 Source
Celestia and Luna go on an unexpected adventure after a drinking contest gone awry. Let's follow them and see what kind of trouble and adventure our drunken princesses can manage to find!
No actual tanks were stolen in the making of this story. An airplane totally was, though.
Fair warning now, this contains far more headcanon than it probably should. I started writing this in September, well before season four premiered.
Special thanks to two of the authors I edit for, among others, 'BioChemicalWolfGear' and 'CDR' for helping me turn this from a load of plot hole-filled crap (not that kind of plot, perverts), to slightly less than crap. On a less vague note, I'm thanking them for being awesome and helping with characterization (some of which I blatantly ignored), general errors, and giving me more awesome ideas to help inspire this story along.
Special thanks to these individuals as well, for much the same reasons as those above,
'Josephdalepony', 'Midnight Spark'
Coverart from the awesome Bakki!
Chapters (14)