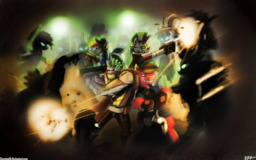 Source
The interviews have drawn to a close. All goes according to the Administrator's plan... for the time being. A new threat, one that promises to definitively end the stalemate between RED and BLU, watches patiently and waits for an opportunity to strike.
It finds one.
As both sides struggle for survival, friendships are made, schemes are executed, trust is betrayed, and ponies are manipulated. All in the name of a worthy cause.
Such is the way of war.
Welcome to PvP - Pony versus Parasite.
---
Many thanks to Tarantad0 for the artwork and Sergiovan for proofreading the whole thing.
Sequel to Meet the Team: Pony Fortress 2. If you don't want to read the prequel, the first chapter (of this story, that is) should get you up to speed.
Chapters (12)