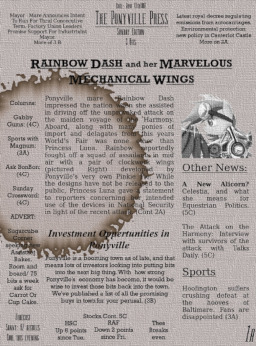 Source
Magic Fall. A phrase that conjures in the minds of ponies, a time of great strife and death, when magic abandoned pony-kind and left them to fend for themselves in a hostile world. Luna now sits alone on the throne as she has for the last one thousand years and watches as technology slowly but surely fills the gap that was left.
The Worlds Fair is in full swing in Canterlot and with the launch of the first ever Celestia Class airship, 'The Harmony', many predict a new era of peace is to come. But when disaster strikes and nearly takes the princess out of the picture, one pony who dreamed of flight will take to the skies and save Equestria.
This is the story of RAINBOW DASH and her MARVELOUS MECHANICAL WINGS...
Chapters (6)