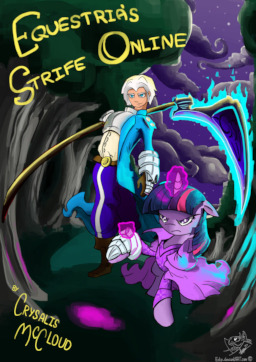 Source
A normal day for two worlds.
In one, Twilight is researching magic at her home in Canterlot, trying to find information on the fabled Elements of Harmony.
In another, a young man, a childhood survivor of the infamous death game Sword Art Online, is about to enter the virtual world for the first time in seven years. The name he chose for himself, the one he hasn't used since that time, Animus.
In mere moments, their lives take a sudden and unexpected turn as the land of Equestria is transformed. The laws of reality are altered, following the rules of a game, and humans are pulled across the bounds of worlds. Now, Twilight and Animus must choose their path. Will they work together to understand the game they've been forced to play? They'll have to choose fast, because war is coming, and the only way to beat the game and wish everything back to normal is to fight against forces that would kill to have their wish granted.
Cover art by the amazing 2135D, also known as EZ The Pony. Authors, I implore you to enter his end of the month raffles or commission art from him. He is an awesome dude who is flexible to your spending limit, and will work with you to make sure that it is absolutely perfect. Just be sure to give him artistic license too.
Chapters (11)