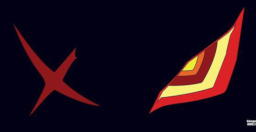 Source
After the battle against Ragyo Kiryuin, Senketsu did not truly perish.
Traveling across the universe as a Primordial Life Fiber, he falls to a new planet in pursuit of a dangerous enemy and must now fight to protect this world from destruction. His only hope rests in mysterious boy who takes him to a school full of talented youths in search of one who can wear Senketsu and unleash his power. They will fight with everything they have to prevent the scourge of Life Fibers from claiming another planet.
A Kill la Kill crossover.
Chapters (8)