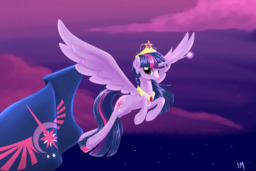 It's been a year since the day Twilight Sparkle learned what Star Swirl the Bearded couldn't, since she found out that friendship can truly conquer any trial, since she was announced as a princess of Equestria for creating new magic. During then, the times seemed happier for everypony. Now, however, darkness has returned... and it's influence is stronger than ever. Mysterious Everfree Forest threatens the ponies as do the swarming changelings in the badlands. In southeastern Vallhalla, the formerly allied dragons fight one another. Then, there are the eastern Zeklathine isles, the mightiest realm of the griffins... lost completely due to evil.
As her first anniversary as a princess nears, Twilight cannot keep from confronting these troubles. Everyone clearly needs aid. Yet, where can she get the needed help? From a forgotten other world, a forgotten other people? Perhaps. Join her as she calls to the stars... and get's her answer. A "Humanity will return to Equestria" story, if you will.
"It is when the sun is shining its brightest, when the moon is at its fullest, when the Elements of Harmony have been born anew and Star Swirl is amongst us once more... that there shall be a most remarkable sparkle of twilight. And from that twilight, from a place long thought as lost, from we who have been forgotten, a child of history will be brought back home as well as a millennium old prophecy will finally be fulfilled."
Chapters (12)