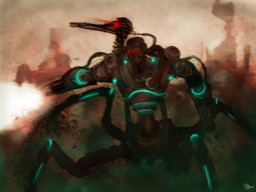 Near the final days of the second Tiberium War, the Brotherhood of Nod has secretly developed and deployed its newest generation of cybernetic warriors: Cyborg Reapers. They are few in numbers, but that does not mean they are dangerous—they are a prime threat to all.
Capable of causing incredible damage to their victims, they grant the Brotherhood many possibilities and advantages. But one day in a small Nod base, a Cyborg Reaper that is very unique than most cyborg soldiers, is taken into the fray.
Strange Tiberium events occur over this desolate land, but one adversary force shares this area: GDI. Engaged in combat, and competing against Global Defense Initiative's strongest weaponry; victory is a lost cause, but the strange events occur over the toxic crystals in the midst of battle. These troops that are trapped in the heat of battle vanish from sight.
Awakened on another world where it doesn't belong to, now the Cyborg Reaper faces a great challenge ahead of him. But it wonders if it's the only surving Nod member, yet a filly unicorn is the first to encounter this man-machine demon.
Chapters (13)