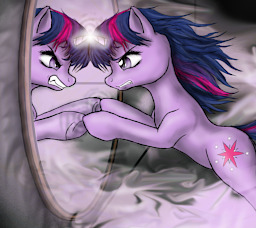 The Mirror Pool is a dangerous tool and after being asked by Princess Celestia our heroine Twilight Sparkle finds out what problems can arise from such strange magic. When a creature of little inhibitions and great magical power is released on the small town of Ponyville what can our stalwart friend do to stop her.
How can you stop somepony who knows you better than you know yourself?
Twilight Sparkle...meet Evil Twilight Sparkle!
Chapters (6)