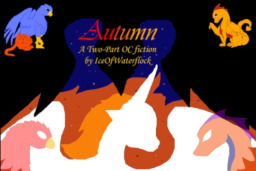 Ponyville has changed in a hundred years of sunshine and snow and rain, of towering cloud formations, Solistice festivals, nights full of constelations and seasons full of happiness. Truth be told, many things have changed, and the Elements have faded back into myths, but Equestria still stands. The question is, will Ponyville last as well?
So, one-two generations after the Mane Six, here is the quick update:
-Celestia has a son named Crimsonleaf
-Rainbow Dash passed away, her daughter, Rainbow Dark, has taken her title as fastest.
-Applejack's granddaughter, Applesauce, looks almost exactly like her.
-A group of nomads, made up of one Pegasus, Rapture, a Unicorn, Lamplight, and two Earth Ponies, Bomberman and Thumper are showing up somewhere in this story
-Rarity's daughter is made fun of for being made of marshmallow
-Gilda has a son named Tigerjay
-Spike has a daughter named Sunrise
-Even Zercora has a daughter, named Chibi
-A hermit named Starlight has shown up in the Everfree Forest
-Twilight is old, Rarity is oldish, Rainbow Dash has passed on, Fluttershy vanished after Coronus's death, Applejack is old, and Pinkie went to Canterlot to get away from the sadness in her home and has not returned since.
-Celestia is still alive, but growing weak; Luna, due to her missed years on the moon, it just beginning to look like a mare
-Crimsonleaf's father has the gift of invinciblity; he will not die until Celestia does.
-The nomads are of average age
-Rarity had a child later, who is now the same age as most of the grandkids, give a few years
-Gilda has a Griffon's lifespan, so her child is also a young age
-Spike is still alive and well, and takes care of his daughter in the library's underground tunnels (they exist)
-Zercora's daughter is much more social than she is.
-Starlight has a secret.
-The Cutie Mark Crusaders are full-grown mares
Because you read this, you recieve the password: trollestia
So far, that's it.
Let the games begin.
--------------------------------
** This story was written when I was 14, and the quality and content reflect that. Please be aware that my position on topics contained within may have changed in the time between publishing and now, and I apologize for any offensive material that I may have condoned in my younger years. **
Chapters (60)