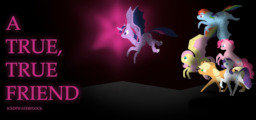 Source
This story, and the Kirin Chronicles as a whole, are being rewritten and published as a new story due to the size of the adjustments.
Part II of the Kirin Chronicles
-
After Equestria recognized Twilight Sparkle's half-dragon form as a true Princess, word comes from the southern kingdoms that a great evil has returned. Will the Elements of Harmony still be able to stop it, or will their half-dragon abilities keep them from succeeding?
---
Part I of the Kirin Chronicles
Part III of the Kirin Chronicles
Featured from April 13th, 2013 to April 15th, 2013.
--------------------------------
** This story was written when I was 15, and the quality and content reflect that. Please be aware that my position on topics contained within may have changed in the time between publishing and now, and I apologize for any offensive material that I may have condoned in my younger years. **
Chapters (6)