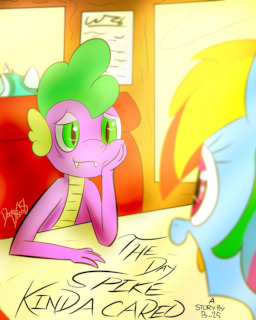 This story is a sequel to The Day Spike Stopped Caring
---
(But you don't need to read the first story!)
Breakups are hard. They're only made more difficult when they involve Death, a missing ex, and a ticking expiration date on a Wonderbolts acceptance letter. Spike will have to traverse Lewis Carroll's wet dreams on acid if he wants to find Rainbow Dash by the end of the day.
Unfortunately, there are many obstacles ready to impede his path, many discoveries still for the drake to have—like Greed glorifying gluttony guiding him to his desires like a used car dealer—and an old love interest hellbent on getting him back. Maybe it's about time Spike started caring. Well, kinda caring.
---
Edited by the revived NATOstrike , the polished OmicroniX, and pre-read by Sejox.
Cover-art done by the super-duper Doctor Disco
Chapters (8)