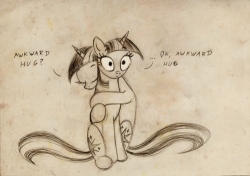 When Twilight receives one of the original journals of Starswirl the Bearded from Princess Luna, she can't wait to try the spells inside it, but the book's magic turns out to be a bit more than Twilight can handle, as her reckless experimentation leads to her accidentally bringing her reflection to life. At first, Twilight decides she quite likes the idea of having a copy around the library. But seeing herself from an outside perspective makes Twilight realize there are some parts of her personality she doesn't care for, forcing her to confront her issues.
Written in the same format as the show, save that it is longer and addresses somewhat sadder themes. No objectionable content or OC characters, focuses heavily on the mane cast.
Special thanks goes out to Pascoite and PavFeira, the two editors who somehow managed to withstand my childish scribbling long enough to make them readable. Couldn't have done it without you!
Chapters (14)