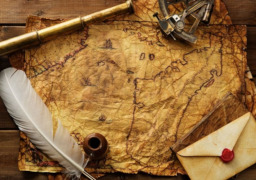 Source
As ye well know, nearly every sailor author comes up with more ideas than his head can hold or his quill can ink... but sometimes them little scraps o' storytellin' do make it down onto the page... a scene here, an introduction there; little snippets o' grander tales, cursed to forever sail a sea obscured by an unpublished fog...
These here be such stories; the scribbled scrimshaw of yers truly: MrAskAPirate!

Uh, cut! Cut please!
What? What's wrong?

Really? That's how you want to introduce this glorified scratchpad?
Okay, okay; I'll drop the accent.

And take off the eyepatch?
::sigh:: ... Fine.
Anyway, this is going to be a collection of the little bits and pieces that I've written and want to share with everypony, but don't quite qualify as anything that could be published on their own. In some cases it'll be a story I wrote the intro or a few scattered scenes for, but never completed. Sometimes they'll be little side-stories to my other works, or even the occasional 'deleted scene.'
As per normal for these types of collections, expect the characters, tags, and tone to vary widely. If you follow my writing you probably already know that I like to try out different things, so expect more of the same!
... I mean, more of things that are very different! From one another. Which is the same as my usual body of work. Of different things.

Smooth.
Shut up, Sparkle.
Chapters (8)